The "Are you kidding me?" rage face with a caption that says "Are you kidding me?"
I saw
this post on The Mighty*
on
Urban Decay's Razor Sharp eyeliners
. The eyeshadows are bold metallics and come in a container that resembles a liquid lipstick tube. Urban Decay was accused of glamorizing self-injury by advertising them via swatches. I do not think this is the case. Horizontal swatches on the inner arm are very common among makeup lovers to preview a product before wearing. Across the board, they (including myself) have varying degrees of familiarity with self-injury.
While I did take some issues with the lipstick shades Manic (neutral-ish dark red) and Psycho (bright red), I take no issue with these because of the ubiquity of horizontal swatches on the arm to test makeup. I cannot believe that someone had the nerve to look for a nonexistent issue with this method of advertising. None of the shades resemble iron-based blood except for maybe Fireball. It bothers me when people make loose associations like these because:
Not all self-harm is indicated by horizontal slashes across the inner arm.
Swatching this way is convenient and it's pretty much universal among makeup lovers to do so.
Urban Decay is known for having makeup with edgy names. It is one of their trademarks.
"Razor sharp" means a myriad of things from literally sharp (especially of an edge) to things like "precise" and"clever". Misconstruing the name of a largely positive idiom in order to point out nonexistent issues just wastes peoples' time.
Makeup swatches are not intended to imitate self-injury. Creating self-injury effects with makeup is stage/costume makeup and not swatching.
These are eyeliners. Of course they will make stark lines when swatched. That is what they are supposed to do.
The whole "issue" with Urban Decay's Razor Sharp eyeliners is based off of misconstruation in general.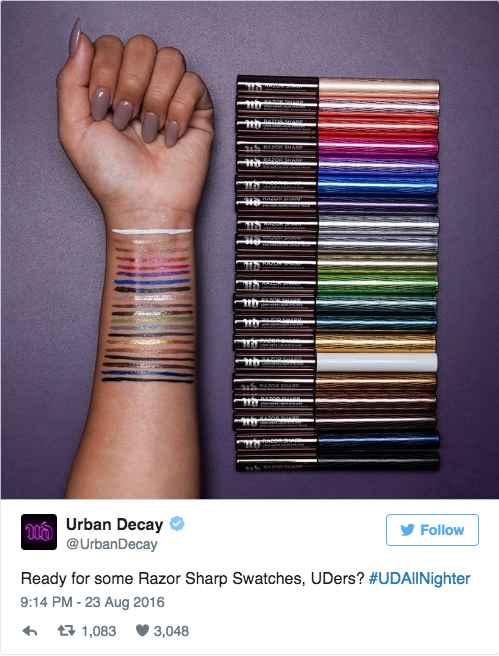 Tubes of Urban Decay Razor Sharp eyeliner and swatches. Urban Decay Tweeted "Ready for some Razor Sharp Swatches, UDers? #UDAllNighter".
I read the post out of curiosity and found it to be a complete waste of my time and energy and an overreaction based on a few spurious connections. The thing that bothers me about the advertising the most is that the tube order is inconsistent with the swatch order, but the fact that someone had the nerve to make a fuss based on some very loose associations makes me question this person's intentions. Did they actually care about the effect makeup swatches of his nature have on people who self-injure or did they just want to raise a fuss over a few spurious connections?
*Linked with a rel=nofollow attribute